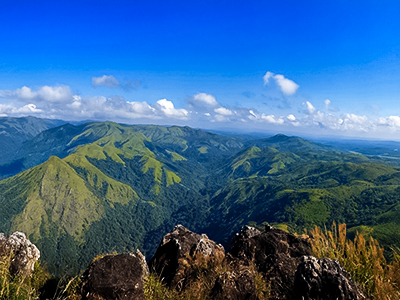 One of the most popular, serene, and picturesque hill stations in South India is Chikkamagalur. Also known as the 'Coffee land of Karnataka', Chikkamagalur means village or land of the younger daughter. Being a cold and cosy destination, holidays can be relaxed in a resort sipping a cuppa of coffee or can be as adventurous as you can think of. With pristine hikes, waterfalls, lush green coffee plantation walks, temples, and wildlife, Chikkamagalur has it all. There are many places to see in Chikkamagalur, one can never get enough of it.
It is believed that Baba Budan, a Muslim saint brought the coffee seeds from Yemen in 1670 and cultivated them here. Although the British played an important role in the growth and promotion, this is how coffee came to India and became an integral part of everyday routine, especially in Southern India.
Places to see in Chikkamagaluru
Kudremukh
Chikkamagalur is primarily famous for its breath-taking views, misty hills, waterfalls, and coffee plantations. However, one cannot ignore the heritage, temples, wildlife, and many other places that attract tourists from all over.
Heritage Temples in Chikkamagaluru
Sri Vidyashankar Temple
Being closer to Hassan and in the Hoysala region, Chikkamagaluru is home to many heritage temples worth visiting at least once. Belavadi and Angadi are two such temple complexes famous for their exquisite craftsmanship and architectural marvel. Just 30 km away, Belavadi is one of the largest temples built by Hoysala and has a Trikutachala (three shrines). Angadi is a cluster of six temples and was home to Hoysala rulers. Other famous temples in Chikkamagalur include Bola Rameshwara, Kollapura Mahalakshmi, Kannika Parameshwari, Rukhmai Panduranga, Kattimaramma Amritapura, Hiremagalur, Imam Dattatreya Peetha, Asandi, Balehonnur, Brahmasamudra, Devanur, Hariharapura, Jayapura, Kalasapura, Marle, Mudigere, Yedehalli, Samse, Tarikere, Devaramane, Vidyaranyapura, Yallambalase and Sri Vidyashankar Temple.
Trekking in Chikkamagaluru
Balllarayanadurga Hills Chikkamagaluru
Chikkamagaluru is a paradise for trekkers. Lush green landscapes, bushy trails, and misty hills make a hike, a lifetime memory for anyone trekking in Chikkamagaluru. Even if you are not a trekker and are a nature lover or a photography enthusiast, Chikkamagaluru is the right destination for you. There are many trails organized by professional tour operators, try not to venture out on your own. Monsoon and post-monsoon is the best season to visit Chikkamagaluru for its weather. A chilly and misty morning will leads you to a bright and sunny day, ideal for sightseeing.Kudremukh,Mullayanagiri Peak,Kemmanagundi, and Ballalrayana Durga are the famous and doable hiking trails in Chikkamagaluru. Mullayangiri is the highest peak in Karnataka with the most amazing and breath-taking views. The peak is mostly misty with chill wind throughout the year.
Pro Tip: Camping in most places is not allowed by the forest department. Please ensure to return before sunset or check with the tour operator/trek companies. They might arrange for a night's stay.
Waterfalls
Jhari Falls
The land of coffee and hills also has some spectacular waterfalls. Post-monsoon is the right season to visit these falls. Gushing water and the roaring sound of pristine falls tempts every traveler to click several pictures. The camera just does not stop clicking at these waterfalls.
Some of the popular falls are Manikyadhara Falls, Sirimane Falls, Jhari Falls, Kalhatti Falls, Hebbe Waterfalls, Heggade Falls, Bandajje Arabi Falls, and many more.
Nature & Wildlife
Bhadra Wildlife Sanctuary
With most of the green cover in Chikkamagaluru, the district is also rich in wildlife sanctuaries and National Parks. The fauna and flora of Bhadra Wildlife Sanctuary which is just 78 km away are famous for their tigers, mammals, and over 250 species of birds. Kuduremukh National Park is a paradise for nature and wildlife lovers. Muthodi Game Sanctuary was originally designated as Jagara Valley Game Reserve in 1952 and is popular with safari lovers.
Adventure and other activities in Chikkamagaluru
Neelakurinji FlowersImage Credits:Abheeshta KS
The pristine and serenity of Chikkamagalur also attracts nature lovers, bird watchers, photography enthusiasts, and all adventure seekers for that adrenaline rush.
Kudremukh is home to more than 200 migratory and resident birds. It is a bird watcher's paradise. Exciting Jeep Safari in Bhadra Wildlife Sanctuary and a thrilling white water rafting Bhadra River is one should crave and will take you back to Chikkamagalur again and again. Camping and nature walks in coffee plantations are also organized by some of the private tour operators to give you the feel of the local lifestyle. One of the most talked about and aspiring locations in the Western Ghats is Neelakurinji flowers. A spectacular carpet of lavender-blue flowers that blooms only once in 12 years has breath-taking views over the hills in Chikkamagalur.
How to reach
By Air
To reach Chikkamagaluru by air you can either choose Mangaluru or Bengaluru international airport. Mangalore is about 150 km and Bangalore is about 280 km away from Chikkamagaluru.
By Rail
Chikkamagaluru is connected via Kadur junction which is around 40 km away on Bangalore – Shivamogga route and there are ample trains in this sector. Alternatively, one can also board a train from Mangalore.
By Road
Chikkamagaluru can be best reached by road. The state-run bus transport services have good connectivity from various major towns of Karnataka. To commute locally in Chikkamagaluru, it is advisable to have your vehicle or hire a cab locally, especially to reach the hills or waterfalls.
Check here to Know more about Chikkamagaluru