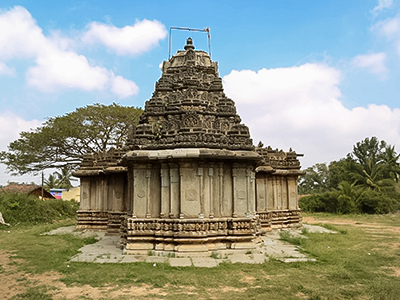 Things to do in Tumkur
A land of majestic forts, magnificent temples and scenic splendour, Tumkur also has some beliefs and stories from mythology. A popular destination that has a lot more to offer as a weekend getaway from Bengaluru. Tumkur is a hub of day treks and temples that attracts travellers, nature lovers, pilgrims, trekkers, and adventure seekers. Tumkur is an education hub and often called as the land of coconut trees.
Temples in Tumkur
Although Tumkur is famous for its short or day treks, temples in Tumkur are equally famous and most visited by devotees and heritage & history enthusiasts. Some of the ancient temples are famous for their magnificent architecture and exquisite craftsmanship.
Goravanahalli Mahalakshmi Temple
Just 30 km from Tumkur, the Mahalakshmi Temple lies in Koratagere taluk. Goddess Mahalakshmi is the deity worshipped here with lots of beliefs and devotion. As the name says, the deity Mahalakshmi is the wife of Lord Vishnu and is the Goddess of prosperity and wealth. According to historians, the idol of the goddess was self-manifested in the early 1900. A huge Gopuram with 2 arches on either side of it or the two verandas are the highlight of the temple. The temple is active and the puja is performed every day since 1952. The temple is open every day from 6 am to 8 pm. However, there is a break from 12.30 pm to 5.30 pm.
Chennakeshava Temple, Aralaguppe
Chennakeshava Temple, Aralaguppe
Similar to the Chennakeshava temple in Belur, this temple too has the same deity. The temple was built by two master sculptors namely Janakachari and Dankachari. The temple is one of the finest examples of Hoysala architecture for its intricate craftsmanship. The temple now is protected by the Archaeological Survey of India was built around 1263 A.D. The temple is located in Turuvekere, a small town in Tumakuru District. The temple is open on all days from 8.30 am to 8.30 pm with a break in the afternoon from 12.30 pm to 6 pm. Though the temple timings differ on public holidays and Sundays. The temple is located in the Turuvekere complex. This temple like in Belur is dedicated to Lord Vishnu.
Turuvekere
Gangadhareshwara Temple Turuvekere
Once an Agrahara, Turuvekere is a complex of many temples built by Hoysalas in the 13th century. Agrahara is an area of land which used to be provided to scholarly Brahmins and priests. The major attraction of this compound is the Chennakeshava Temple dedicated to Lord Vishnu. The temple area is believed to have built-in 1260 AD and has a North Indian style of architecture.
The other temples of beliefs and historical importance in Tumkur are Siddhaganga, math is a pilgrimage and study centre established in the 14th century AD, Lakshmikantaswamy, the largest and oldest temple in Tumkur town, Arthur, home to Chennakeshava and Pattaladamma temple, Aralaguppe and much more worth visiting.
Treks / other places of interest in Tumkur
The temple town and an education hub, Tumakuru is also popular with adventure seekers, nature lovers, and photographers. A weekend getaway destination from Bangalore is a paradise for trekkers.
Madhugiri Fort

Madhugiri Fort
A moderate to difficult trek near Bangalore is Madhugiri Fort. A single hill trek is believed to be Asia's second-largest monolithic rock in Asia. An adventurous hike scaling through the boulders leads to the Madhugiri Fort. The ruins of the historical fort and the views from the top leaves you mesmerized.
Devarayana Durga

Devarayana Durga
Devarayana Durga is an ideal location for devotees and adventure seekers. The panoramic scenic view of Tumakuru town from the top of the hill is worth the climb. The uneven green hilly terrain has a lot of temples like Yoga Lakshmi Narasimha Swamy, Bhoga Narasimha Swamy, and the Sanjivaraya Temple dedicated to Lord Hanuman. Climb through the caves, boulders, and green hiking trails to reach the top of Devarayana Durga hills for some exciting and breath-taking views.
The other places of interest include dams, reservoirs, treks, forts, forest reserves, and a lot more. All these are easily accessible from the town. Some of the popular places of interest in Tumakuru are Markonahalli, Pavagada, Jayamangali Blackbuck Reserve, Namada Chilume, Huliyur Durga,   Hutridurga, Chennairayana Durga, Kandikere, Midigeshi, Nagalapura, Nidugal, Nittur, Nonavinakere, and Theeta Reservoir.
How to reach
A small town but easily accessible from the state capital Bengaluru. Just about 60 km away from Bengaluru, Tumakuru can be reached by road in about 1 and a half hours.
By Air
The nearest and biggest airport is Bengaluru Airport, located about 90 km away.
By Rail
A lot of trains both inter-state and intra-state cross through Tumkur. Tumkur has a railway station of its own.
By Road
The national highway connects Tumakuru with Bangalore with beautiful and scenic road connectivity. Tumakuru is just 70 km away from Bengaluru.
Check More About Tumkuru