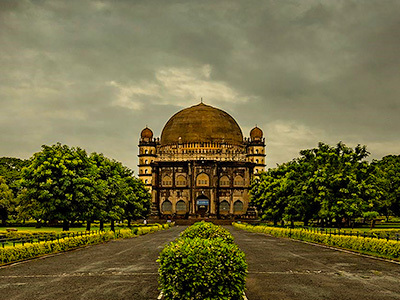 Things to do in Vijayapura
By Meenakshi Gupta
One of the most visited historical towns of the state with 50 mosques, more than 20 tombs, and some palaces and ruins is Vijayapura. Formerly known as Bijapur, Vijayapura is located north of Karnataka closer to Maharashtra towns Sangli and Solapur. Undoubtedly there are many interesting places to see in Vijayapura.
The city is famous for its architectural marvels of historical importance built during the Adil Shahi dynasty period. Vijayapura is one of the top 10 cities visited in Karnataka, especially for its monuments. Vijayapura is also home to India's largest dome, Gol Gombaz along with many other monuments and ruins of the forts.
The heritage city Bijapur, established in the 10th – 11th centuries by the Kalyani Chalukyas was renamed Vijayapura in the year 2014 as it has been always known as the City of Victory, Vijayapura. Bijapur first came under the Muslim influence of, the Sultan of Delhi, Allaudin Khilji by the end of the 13th century and then under the Bahamani kings of Bidar in 1347. The city was under Mughal rule up to 1723. It was during the Adil Shah King's tenure, Vijayapura became a culturally rich empire and attracted musicians, artists, and scholars from various fields and far-off locations like Persia and Arabia. The popular Urdu poetry symposium or Mushaira is believed to have originated from Bijapur and travelled to North India and other parts of the country.
Places to Visit in Vijayapura
Being a heritage and historical city, Vijayapura has a lot to offer to travellers, researchers, students, and all history and architecture enthusiasts. The blend of Mughal and Indian architecture and craftsmanship is par excellence.
Temples and Mosques
A hub of heritage temples and mosques, Vijayapura is a travellers and pilgrims' delight.
1. Jamia Masjid: The central wall of this holy Indo –Islamic architectural mosque is covered with lines from the Holy Quran etched in exquisite calligraphy. The exterior, especially the onion-shaped crowning dome, the aisles & corridors, the elegant arches, halls, and much more are one of the best examples of Indo- Islamic architecture from Adil Shahi.
2. Shivagiri Temple:  Home to the second largest Shiva statue in the country standing tall with a height of 85 feet, Shivagiri temple is evolving as the most sought pilgrimage. The statue weighs around 1500 tons and also has a small idol of Shivalinga installed beneath the big statue.
3. Muddebihal: Home to Shiva and Hanuman temples and shrines of Dattatreya, Panduranga, Durgadevi, Mallayya, Marulasidheshwara, and Banashankari. Muddebihal, Muddebihal also has ruins of an old fort.
4. Ingaleshwar: A cluster of eight ancient temples, of which two are cave temples namely Siddeshvara and Akka Nagamma, Ingaleshwar is a must to visit the temple in Vijayapura. Another temple with 36 beautifully carved Kalyana Chalukya era pillars, is Someshwara Temple, which is believed to be the largest in the town.
5. Sahasraphani Parshwanatha Basadi:  Located on the outskirts of Vijayapura, this Jain temple has a unique idol of Lord Parshwanatha. This 1500-year-old beautifully sculptured idol is adorned with 1008 headed snake. A beautiful sight of offering milk to the god on the full moon and new moon days (Poornima and Amavasya), where milk travels through all the 1008 heads before it smears the whole idol.
The other sacred places or places of worship include Thi Yelagur, Tikota, Sindgi, Salotgi, Indi, Almel, Agarkhed, etc.
Heritage sites and monuments in Vijayapura
Famous for Mughal architecture-based monuments, Vijayapura is a must to visit the place to appreciate and learn about these heritage sites.
1. Gol Gumbaz: An astonishing piece of art and the home to the second largest dome in the world, Gol Gumbaz is a magnificent 210 ft high mausoleum. Built by Md Adil Shah, Gombaz has features like seven-storied octagonal spires at the four corners and a cornice below the parapet. The main attraction dome is unsupported by any pillars and is second to St Peter's Basilica in Rome.
Do not forget to visit the Vijayapura Archaeological Museum, close to Gol Gombaz showcasing the preserves and antiques of the Vijayapura region.

Gol Gumbaz
2. Ibrahim Roza: One of the most beautifully proportioned Islamic monuments in India, Ibrahim Roza is said to be an inspiration for the Taj Mahal in Agra.

Ibrahim Roza
3. Bara Kaman: A magnificent structure that was not destined to be completed is still a major attraction in Vijayapura. An incomplete mausoleum of Ali Adil Shah II with 12 graceful arches, this royal tomb of Ali Adil Shah II whose construction probably began with the consent of the throne. It is believed to be the rival of Gol Gumbaz.

Bara Kaman
4. Gagan Mahal: As the name suggests, a palace and a Durbar Hall (Meeting Hall) were built by Ali Adil Shah I around 1561, is a roofless structure. The main attraction of the palace is the great central arch with a span of 60 feet and 9 inches, which is an exquisite example of the Indo-Islamic architecture
5. Other famous monuments in Vijayapura: Malik-e-Maidan  Mehtar Mahal  Upli Buruj ,Taj Bawdi  Talikote Jod Gumbaz, Asar Mahal, Anand Mahal, Andu Masjid, Chota Asar, Chini Mahal, Jala Manzil, Jami Masjid, Chand Bavdi, Bukhari Masjid, Aurangazeb Idgah, Moti Gumbaz, Mustafa Khan's Mosque and Palace, Malik Sandal Mosque, Malik Jahan Begum's Mosque, Rama Mandira, Ratullah Khan's Mosque, Parameshwara temple, Nav Gumbaz, Narasimha temple, Pani Mahal, Saat Manzil, Siddheshwara temple, Devara Nimbargi, Yakut Dabuli's Tomb and Mosque, Ark-Killa, etc
Best time to visit
Being located North of Karnataka, Vijayapura is a warm location. The best time to visit Vijayapura is post-monsoon i.e. from October to February. The weather is pleasant and comfortable to visit the monuments. A lot of walking is involved so ensure you carry enough drinking water and wear comfortable shoes.
How to reach
Vijayapura is well connected via road and rail all over Karnataka. Vijayapura is about 524 km from the state capital Bangalore. Vijayapura is also the best base station for visiting other heritage sites like Badami, Aihole, and Pattadakal.
By Air
Under the Udaan scheme, Kalaburagi is the closest airport and is approximately 166 km away but with limited flights. The other two airports Hubbali and Belagavi, both around 200 km are convenient airports to reach Vijayapura.
By Train
Vijayapura has a railway station connecting to most of the major cities in Karnataka and Maharashtra.
By Road
Located North of Karnataka, Vijayapura has easy access to Karnataka, Maharashtra, and the Telangana region. The state-owned bus service, KSRTC has a service from Bangalore and other major towns of Karnataka.
Read More About Vijayapura