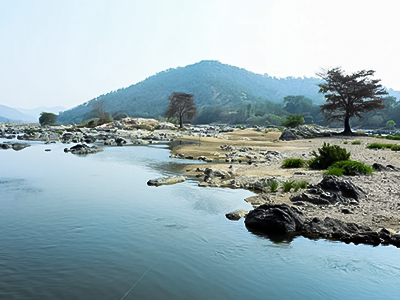 Places to Visit in Ramanagara
As you travel from Bangalore towards Mysore or Coorg, there is no way you can miss Ramanagara. A district carved out of Bangalore rural, is a popular weekend destination for Bangaloreans. Ramanagara is also the location of the Bollywood blockbuster 'Sholay 'which houses boulders and rocks, a picturesque location.
Also known as 'Silk City', famous for being the largest market for silk cocoons in Asia and India supplying raw material for silk sarees, Ramanagara is a traveller's delight. Ramanagara district is home to many hills and rivers and hence a paradise for adventure seekers. Also famous for Channapatna toys, there are a lot of places to see in Ramanagara.
Ramanagara is a trekker's paradise, from beginners to experienced, everyone loves to trek in the misty hills with mesmerizing views of the neighbouring hills and the beautiful landscapes.
Temples in Ramanagara
The city of Rama has a lot of beliefs and stories related to mythology. It is believed that lord Rama had walked through the place during their vanavasa. There are many temples in the districts which believed to have evidence of the presence of lord Rama in some or the other way.
Ramadevera Betta Temple 
Located in the beautiful setting of Ramadevera Betta Hills, the temple is dedicated to Lord Rama along with other deities like Lord Shiva, Goddess Parvati, and many more. It takes about 400 steps to reach the temple which otherwise can also be trekked crossing the famous Sholay boulders and rocks.
Kabbalamma Temple 

Kabbalamna Temple
A hill resembling a Shivalinga, just 14 km away from Kanakapura is the home of Goddess Kabbalamma. The highly acclaimed shrine, the deity is also called Kalikadevi. The temple is most visited during the Shivaratri festival in February- March when the annual 'Jatra' happens and is visited by thousands of devotees.
Ranganatha Swamy Temple

Ranganathaswamy Temple
Built in Vijayanagara and Dravida style workmanship, the temple is located at Swarnadri Parvata hill. An appealing Rajagopura which is visible even from a very long distance attracts many visitors. The main deity standing tall, Lord Narayana is the main attraction and reason to visit the temple.
Know More About Sri Ranganathaswamy Temple
Magadi
Located in the heart of town and one of the talukas of Ramanagara district, Magadi, the temple was built in 1712. It was in 1638 when Kempe Gowda, the founder of Bengaluru left Bangalore, and made Magadi his headquarters. The fort and the Rameshwara Temple are worth a visit.
Hanumanthaayya Temple

Hanumanthaayya Temple
Dedicated to Lord Hanuman, the temple also has shrines of Lord Rama, Sita, and Lakshmana in the temple. Located just 3 km away from the Bangalore – Mysore highway, the statue of lord Hanuman is sculpted in locally available red granite stone called Kengal. This is also the reason why the place is known as Kengal.
As mentioned, Ramanagara is a hub of temples, the other temples worth visiting are Dodda Mallur, Devara Hosahalli, Brahmanipura, Harohalli, Honganur, Jalamangala, Kallahalli, Kengal, Kudlur, and Sugganahalli.
Places of attractions in Ramanagara
Even though Ramanagara is a small town, it has a lot more to see and things to do. Attractions like boating, waterfalls, reservoirs, and dams are beautiful and scenic locations with mesmerizing landscapes. Ramanagara is a paradise for nature lovers, and adventure seekers and is a photographer's delight.
Mekedatu & Sangama 

Mekedatu & Sangama 
Tourists and travellers flock to Ramanagara for the breath-taking views of Makedatu and Sangama. Located in the Kanakapura Taluk, Sangama is the confluence of the Cauvery and Akravati rivers and is an ideal location for a day outing. Mekedatu is a water body and a trek just 5 km from Sangama, crossing through dense forests and splendid hills. At this spot, you can hear the roar and the vibration of river Cauvery. An ideal location for day picnics with family and friends, Mekedatu should certainly be on your must-to-do list.
Pro–Tip: Kindly keep the area clean. Do not litter.
Read More About Mekadatu
Kanva Reservoir

Kanva Reservoir
The hills in the background make a perfect location for a day outing and picnic, Kanva Reservoir is a relaxing location just 10 km away from the district centre.
Manchanabele Dam 

Manchanabele Dam
A small water dam over river Akravati, Manchanabele is a calm and soothing location, especially for bird-watching. Manchanabele is just 45 km from Bangalore which makes it a hotspot for weekend outings for families and friends. Situated around 45km from Bengaluru, the Manchanabele Dam is a small water dam built across the Akravati River. This is one of the best spots for watching birds.
Janapada Loka 

Janapada loka
Spread across 15 acres, Janapada Loka was established in 1979 with the idea and dedication to promote, preserve, publish and propagate the native folk culture of Karnataka. A cultural centre, the brainchild of Sri H L Nage Gowda, is a platform for rural artisans, musicians, and craftspeople to showcase their art form from Karnataka and make a living out of the sale proceeds. The folk art museum is the main attraction of the Janapada Loka which has an astonishing collection of around 5000 artefacts from Karnataka. The complex also houses a museum. An open-air theatre, a studio, and other structures.
Adventure in Ramanagara
Ramanagara is home to many day treks and other adventure activities like rock climbing, rappelling, sailing and much more. Of the many day treks, Savanadurga and Ramadevera Betta are very popular.
Savanadurga 
One of the most sought and famous day treks near Bangalore is Savanadurga. A moderate to difficult trek luring with gigantic rocks & boulders, lush greenery, and spectacular landscapes, the Savanadurga trek is perfect to give you that adrenaline rush. Savanadurga is a difficult trek, hence ensure you are in a group and go through a recognized trek operator. You must also carry your food, water, sun protection, and a first-aid kit.
Ramadevera Betta Vulture Sanctuary and a Trek

Ramadevara Betta
Ramadevera Betta hike and the Vulture Sanctuary is an ideal location if you are looking for some excitement, thrill, and adventure. Famous rocks from the movie Sholay fame and the only Vulture Sanctuary in India will surely excite you. A sanctuary that is home to critically endangered and endemic Indian white-backed vultures and long-billed vultures are found here.
Pro Tip: It is a protected area hence permission is required from the forest department. Permission can be obtained at the entrance of the sanctuary.
Channapatna Toys 
Besides the various attractions, temples, and adventure places, Ramanagara is also famous for its unique craftsmanship i.e the wooden Channapatna lacquerware handmade products. Channapatna is a small town in Ramanagara district, 60 km away from Bangalore has over 3000 artisans making wooden toys, games, jewellery, home décor, and many things. These products are protected under GI (Geographical Identification) tag under World Trade Organisation. Made with ivory wood and natural vegetable dye colours, these products are non-toxic and safe for children. A visit to Ramanagara is incomplete without visiting a manufacturing unit at Channapatna.
How to reach
Just 60 km away from Bangalore, Ramanagara is well connected by rail and road.
By Air
The nearest airport is Bangalore which is about 80 km away.
By Rail
Ramanagara has a railway station and is well-connected to Bangalore and Mysore. All the trains from Bangalore to Mysore cross through Ramanagara.
By Road
Ramanagara is well connected via road. KSTRC, a state-run transport bus service and private buses both luxury and non-AC starting from Bangalore towards Mandya and Mysore cross via Ramanagara. One can also hire a taxi or cab to reach Ramanagara from Bangalore.
Check here to Know More About Ramanagara