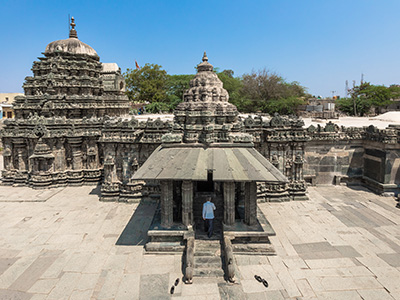 Places to Visit in Dharwad
The cultural, heritage, educational, and historical twin city of Hubballi- Dharwad is also a traveller's delight. The historical city had been ruled by many kings before coming to the British East India Company. Dharwad had been part of Chalukyas, Bahmani Sultanate, Vijayanagara Empire, Adil Shahis, Mughals, Shivaji Maharaj, Peshwa Balaji Rao, Hyder Ali, and Tipu Sultan. Being an educational and Agricultural sciences hub, the city has many learning centers and museums that are visited by many travellers, historians, and researchers.
Dharwad is often referred to as a hub of culture, art, science creativity, and cuisine. As they say, travellers learn a lot by travelling and what best would it be in a city like Dharwad.
Things to do and see in Dharwad
Dharwad Fort
The historical and heritage city of Dharwad has something for every tourist. The heritage sites to religious places to museums, and nature in its glorious form, Dharwad has it all.
Heritage sites and religious places to visit in Dharwad
Chandramouleshwar Temple, Hubli
The heritage and ancient city have a plethora of heritage sites and religious places. This includes temples, churches, and mosques as the city had been ruled by various dynasties. Spread across the twin cities Hubballi – Dharwad, even the smallest town is of great importance. Each monument and shrine reflects the outstanding artistry skills of the era. Visit these places will not only mesmerize you but will also leave you spellbound. A must-to-do list includes Banashankari Temple, Dharwad Fort,  Shambulingeshwar Temple, Kalmeshwar Temple, Basavanna Temple, Chandramouleshwara Temple, Muruga Math, Bhavanishankara Temple, All Saints Church and Basel Mission Church, Jumma Masjid, Mastan Sofa Mosque, Ananthanatha and Parshvanatha Basadis, Navalgunda, Mukti Mandir, Kundgol, Gudageri, Nuggikeri Hanuman Temple, Siddharoodha Math, River Birth Place, Changdev Urf Raja Bagasvar Temple, Ajat Nagalingaswami Math, Madiwaleshwar Math, Murugha Math, Hazrath Sayed Fatehshahwali Dargah, Hazrath Sayed Sato Shaheed Dargah, Hebich Memorial Church, All Saints Church, Saint Joseph's Catholic Church, Holy Name Cathedral Church, Jain Basadi, and Iskcon Temple.
Museums in Dharwad
Karnataka Arts College
Dharwad is well known for being an educational hub and the centre of agricultural sciences not just in Karnataka but also one of the best in India. There are many museums in Dharwad- Hubballi related to science, arts, railway, culture, and much more. The famous museums in Dharwad not just attracts school and college students but also the travellers who are always keen on learning and upgrading themselves with facts and knowledge. Some of the museums one must visit are Railway Museum, Museums at Karnataka University, Museum at Karnataka Arts College, Intach Heritage Museum, D.R. Bendre Bhavan, Pandit Mallikarjun Mansur Memorial, Sun Ray Solar Museum, Dharwad Regional Science Centre, and Indian National Trust for Art and Cultural Heritage (INTACH) Museum.
Other places to see and things to do in Dharwad
Unkal Lake, Hubli
If you are a person who loves to spend time in the lap of nature and tranquillity, Dharwad – Hubballi is the place for you. These heritage and historical cities have no dearth of lakes, hills, and parks to spend some time with yourself or with your dear ones. Some of the lakes, hills, and eco-villages one must visit at least once are Nrupatunga Hill, Unkal Lake, Sadhankeri Lake, Nature First Eco Village, Kelageri Lake, DharwadNeerasagar, DhummawadDori Lake, Neelammana Kere, Nrupatunga BettaUnkal Lake.
Shopping in Dharwad
Dharwad Pedha
If you love shopping and collecting souvenirs from the places you travel, do not miss indulging and splurging in the various arts and crafts from Dharwad. A culturally strong city is also rich in various arts and crafts forms. Navalgund Durries (hand-woven carpets), traditional hand-embroidered Kasuti (a traditional form of embroidery) sarees, and the Dharwad Peda (a sweet prepared with milk) are the GI-tagged products from Dharwad and must be taken home as a souvenir. Khadi Gramudyog in Hubballi – Dharwad is famous for hand-spun khadi materials and hand-made products and is also famous for the production of authentic hand-woven Indian National flags in different sizes.
How to reach
Located in the North-west of the state, Dharwad – Hubballi is well connected to the state capital and other major cities of the country. Dharwad is located towards the North West from the state capital and is 430 km away.
By Air
Hubballi is the nearest airport and is just 20 km away from the district headquarters. The airport is connected to cities like Bangalore, Chennai, Delhi, Hyderabad, Mangalore, Mumbai, and Mysore.
By Rail
Dharwad has a railway station and good rail connectivity with all the major cities of the state and neighbouring states like Maharashtra, Telangana, and Andhra Pradesh.
By Road
Dharwad- Hubballi, the twin cities are well by road too. State-run public transport bus service, KSRTC is well connected with major cities of the state. For exploring the local attractions taxis and auto-rickshaws are easily available.
Read More About Dharwad