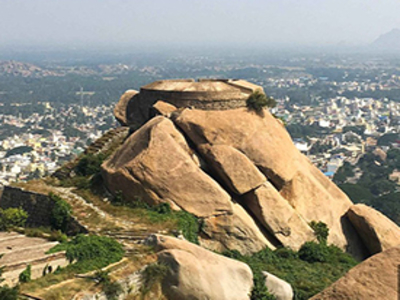 About Madhugiri Fort 
As one starts his or her journey towards fitness they start thinking of adventure opportunities which they can do it. I also started exploring doable treks with a beginner level in and around Bangalore. One such trek I came across was a trek to Madhugiri Fort. Madhugiri Fort is Asia's second-largest monolithic rock and is about 110 km away from Bangalore towards Tumkur district. It is famous for its Madhugiri Fort which is quite popular among trekkers.


The ruins of Madhugiri Fort lies atop the steep hill of height 3950 ft, approximately and is quite an adventurous trek.  It takes about 2 hours from Bangalore to reach Madhugiri and can be reached by car or by bus. The nearest railway station is Tumkur which is 40 km away from Bangalore. It would be ideal to start early and reach early to the base of the fort to avoid harsh sun unless it is raining. But then the trek is not recommended during the rainy season for its extra slippery hill and it can be dangerous.

The Tricky Trek 
We started early to reach the base of Madhugiri Fort by 8 am as it becomes very sunny and challenging because of the rocks. There are not many options for breakfast on the way so it is advisable to carry your breakfast along with other eatables, energy bars, fruits and hydration for the trek. There are no fees for the trek however you have to register yourself for safety reasons with the guards. So do not forget to carry your photo id card.

We started our trek and it looked so easy and comfortably doable. Just about 200 steps away are the watchtower of the fort. This tower was once used to see at distance during the kingdom. Also lies there a well with steps but is dry now.  As you climb higher, the steep and rocky hill becomes very tricky and demanding. Though there are small steps, just enough to rest your toes and a rope along the path for support still it is quite strenuous and scary at a couple of places. The trek till halfway is quite interesting. The real adventure starts after midway. The way upwards from there is not vertical rather horizontal or zig-zag and again without any support.
There are a few points where iron rods and side pillars are there for support but are very scary. At some point, we found a flat area with a huge rock as a shade and we stopped for some refueling. After breaking for 15 -20 minutes we started again. From this point, the way up was rocky with small rocks to step up. The view of the town from here was magnificent. Several small hills surrounded by Madhugiri fort made us feels on top of the world. This is the spot ideal for photography. At this point, we thought we have almost reached the top but were deceived by bigger rocks. We had reached only a little more than halfway and almost the same distance was left to reach the top. It was becoming even more challenging and interesting.

I would highly recommend a good pair of shoes with a sturdy grip. There is no support here and the fear of height was killing me from inside. There is a stretch of nearly 20 feet which is almost 80 degrees angle and has only iron bars to rest your feet and walk through. I almost froze here. There is no way you can either look up or down from there. You have to just look at the rods and keep resting your foot one after the other on each vertical bar to cross that path. The distance between the bars also is not uniform. I almost got stuck at one point because of my height and short legs but somehow managed with the help of my co-trekkers. It was a bone-chilling experience.

As we were climbing up, we saw a group of young boys coming down saying there is nothing to see. But it did not dampen our spirits at all. We headed for the last lap which didn't look easier but was fairly okay after that horrendous stretch. This we covered in half an hour to reach atop. There lie the ruins of a temple. By then we had exhausted all our energy bars, food, and hydration. Please do carry enough refuel as there is nothing available on the top. The view from here was out of the world. It was 360 degrees view of the town with greenery all around. The descend is equally challenging. The trek is not for beginners.

How could they not see anything from that point? It felt top of the world literally after climbing such a height with the level of intensity. We spent some time there, listened to music, chatted and planned for the next trek. Yes already! We were so inspired and felt accomplished. The sun was at its peak and we started descending as we ran out of water and food. After the tricky patch, descend was quite comfortable. Again you need a good pair of shoes to maintain your balance against gravity. There were places where I had to sit down or even jump over the rocks to move further. It took about 5 hours for us to climb and back. The experience is of a lifetime. For a beginner like me, the trek was quite adventurous and challenging.

How to reach
Air- Nearest airport is Bangalore which is about 100 km. Taxis can be taken to reach Madhugiri.
Road – The road from Bangalore via Tumkur is well connected to Madhugiri. It can be reached either by your vehicle or by KSRTC buses which ply from Majestic Bus stand at regular intervals.
Rail – The nearest railway station is Tumkur which is around 45 km from Madhugiri.
Things to Remember 
Trek with a well-worn pair of shoes with a good grip
Food, eatables, energy bars, fruits and at least 2 litres of hydration.
Sunblock or sunscreen and a hat to protect you from the sun.
Required permission and registration before the trek and sign once you are back with authorities at the base for the precautionary mandate. Carry your Identity Card.
Basic and necessary medication.
Do not Litter