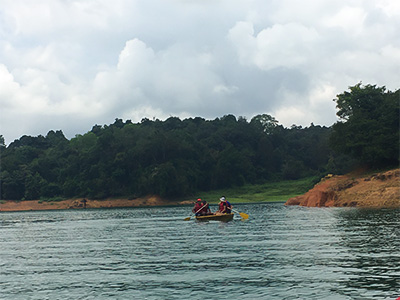 Honnemaradu- Soak up in adventure
Looking for a weekend getaway that is a complete package for the whole family, boys and girls, nature lovers, and adventure enthusiasts? Head out to the tranquillity along with the adventure. A quaint village near Sagar town of Shimoga district Honnemaradu overlooks the Linganamakki Dam is a perfect weekend getaway. Plan an itinerary for a weekend with some additional time for a visit to Jog Falls. Jog Falls is one of the famous waterfalls of India and is just 15 km away from Honnemaradu.
Backwaters at Honnemaradu
A perfect location amidst lush greenery, backwaters of River Sharavathi, and a hill that offers an array of adventure activities like hiking, canoeing, kayaking, swimming in backwaters, camping, and bonfire. Often referred to as Bird watchers heaven, Honnemaradu is popular amongst nature lovers and photographers too. The name Honnemaradu is derived from a local tree called Honne which means a Golden Lake. The activities at Honnemaradu start early in the morning and end as the sunsets. One can witness the spectacular sunrises and sunsets. The beautiful islands in the form of small hills and hillocks which were submerged years ago welcome you for a small hike or just to camp there
Adventure in Honnemaradu
Backwaters of River Sharavathi
There are no organized packages available however you can contact the locals for hosting you for an adventure. Some of the locals have managed to organize an eco-friendly itinerary to assist you with an experience of a lifetime. This eco-tourism sustainable unit is run by an award-winning couple who offer 2-3 days packages comprising of various adventurous activities like swimming in open waters, canoeing, kayaking, hiking, coracle boat ride, and much more with all safety precautions and measures supervised personally. When we say it is an eco-friendly destination it is a zero-tolerance zone for smoking, drinking, and no chemical-based personal products. There is no mobile network but trust me you will not miss them too.
Activities
Coracle ride at Honnemaradu
Soak yourself up in the water and get sundried at the gorgeous banks of the backwaters of River Sharavathi. If you are a nature lover, adventure enthusiast, landscape photographer, or just want to indulge in some fresh air, head towards Honnemaradu.
Ideally, reach there in the morning so that you can enjoy all the activities. Do not rush for any activities. Just indulge. Start your day with freshly brewed coffee and head straight towards the water sports. Immerse into the purity and divinity of the River Sharavathi. No need to worry at all if you do not know swimming. The life –jackets make everything easier and ensure you do not miss out on an adventure just because you don't know swimming. All one needs to do is to float or swim in the open water under the beautiful sky of Honnemaradu surrounded by hills all around. Idea is to relax all your muscles and mind. The sumptuous local Karnataka meal is something I crave for and trust me you will surely gorge on those authentic simple and staple yet a feast. That's what you need after that fun-filled adventure, right?

Kayaking at Honnemaradu
We stretched our legs a bit and we were in the water again but this time it was for kayaking and a coracle boat ride. The mesmerizing sunset and its dramatic reflection on the water, chirping of birds heading towards their nests over the pinkish-orange sky, the whole scene looked out of a movie.
Star Gazing and Bonfire
Bonfire at Honnemaradu
We trekked a bit were at a flat area where we parked ourselves for some star gazing and bonfire. An amazing time spent with fellow travelers sharing their adventure, inspirational and haunted stories under the clear starry sky.
Trekking
Started a bit early on day 2 and straight went for trekking. A beautiful morning with dark clouds and chirping birds, we couldn't have asked for more. A short and easy trek of about 4 km, crossing through zigzag trails was thrilling for a first-timer. My other friends ran up to the hill. Bheemana Hejje, which means footprints of Bheema is what we saw on the top of the hill. Locals believe and worship saying Bheema visited the place, hence his footprints.
All good things must come to an end. We said adieu to the wonderful hosts and embarked on our return journey. How could we not go to the world-famous Jog Falls? You must include India's second-highest plunge waterfalls in Shimoga in your itinerary.

Backwaters of River Sharavathi
How to reach
Honnemaradu is a tiny village snuggled along with the backwaters of River Sharavathi in Sagar town of Shimoga District. This adventure destination can be reached by road, rail, and air.
By Air
The nearest airport is Mangalore which is nearly 200 km from Honnemaradu. One needs to take a train or go by road to reach this gorgeous adventure destination.
By Train
There are trains from Bangalore and Mysore to reach Shimoga with the nearest station Talaguppa. After which one has to go by road which is approximately 10-12 km. Local jeeps and auto-rickshaw are available.
By Road
The best way to reach Honnemaradu is via road. The village is well connected with Bangalore and Mysore. Honnemaradu is about 400 km from Bangalore.
Best Time to Visit
The best time to visit Honnemaradu is soon after the monsoon when the backwaters are in full glory and its lush green all around. The best season to visit is August to January. It may get a little warmer in other months.
Things to Carry
Since the place is eco-friendly, one needs to carry their plates and cutlery for food, extra clothes for change, swimming costumes, medicines, mosquito repellents, and a strong sunblock lotion.
Be Safe!