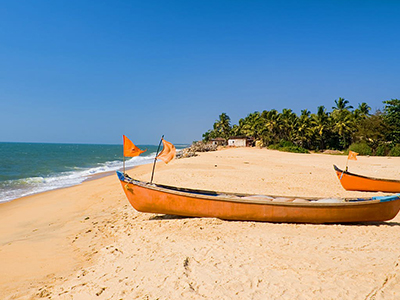 Tourist Places in Coastal Karnataka
Coastal Karnataka is bestowed with sandy beaches, lush greenery, lively culture, magnificent temples, and delicious cuisine. If you are looking for a much-needed break from the hustle-bustle of daily life, the towns in coastal Karnataka will never disappoint you. Here is a list of the most sought-after destinations that you must visit during your next trip to Karnataka. An ideal road trip will take you through these cities, offering you a vacation like no other.

One of the most popular coastal Karnataka places, Gokana is a nature's paradise. It is a quaint beach town, blessed with peaceful surroundings and pristine beaches. You can enjoy a relaxing vacation or enjoy thrilling activities. Parasailing, snorkelling, scuba diving and surfing are some of the exciting water sports to try here. Kudle Beach, Om Beach and Half Moon Beach are popular beaches. Gokarna is also a sacred pilgrimage site, housing the majestic Mahabaleshwar temple.
Mangalore:

Renowned for its rich history, magnificent temples, alluring beaches, and authentic Mangalorean cuisine, Mangalore is a must-visit destination in coastal Karnataka. Kudroli Gokarnath Temple is one of the most popular temples in the region, known for its vibrant Mangalore Dasara celebration. Besides this, Sammilan Shetty's Butterfly Park and Mangaladevi Temple are other tourist attractions.

Home to some of the most iconic temples, Udupi is another coastal Karnataka city that you must visit. Udupi Sri Krishna Temple, Maple Beach, St. Mary's Beach, and The Corporation Bank Heritage Museum are top attractions in the city. So, whether you are a spiritual seeker or a nature lover, there is something for everyone in Udupi.

A beautiful beachside pilgrim town, Murudeshwar is home to the world's second tallest statue of Lord Shiva. Murudeshwar Temple is among the most iconic temples of the state, beckoning thousands of devotees every year. Besides this, Mirjan Fort, The Statue Park, Netrani Island, and Murudeshwar Beach are the famous tourist places to visit in the town.

This seaside city is a quaint paradise beckoning nature lovers and peace seekers. Here, you can enjoy boat rides on the Kali River, spend some time at the Kali River Garden, watch a mesmerising sunset at the Rabindranath Tagore Beach, and seek blessings at the Naganatha Temple. The authentic Karwar cuisine is a must-try too.
Coastal Karnataka has plenty to offer for the weary travellers. So, if you are planning a vacation, head to one of these cities for creating memories to last for a lifetime.