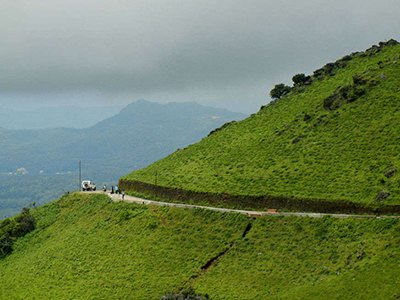 Places to visit in Karnataka in December
Karnataka is beautiful all around the year, but the month of December brings with itself a mythical allure that cannot be missed. Whether your idea of a perfect holiday is relaxing amid nature, trekking up the hill, temple hopping, or enjoying adventure sports, Karnataka has something for everyone! Here is a list of some of the best places that you must visit in Karnataka in December for an idyllic winter vacation.

Blessed with abundance of natural bounty, peaceful environs, and the pleasant aroma of coffee plantations, Coorg is an alluring destination. In the month of December, the weather is incredibly beautiful, adding more charm to this place. Abbey Falls, Madikeri Fort, Iruppu Falls, Raja's Seat, Tadiandamol Peak, and Dubare Elephant Camp are some of the best places to visit in Coorg. You can also indulge in river rafting, camping, boating, trekking, and other thrilling activities.

For those who are seeking solace amid nature, Nandi Hills is the best place to visit in December. Located just 60 kms from Bangalore, this place is known for its breathtaking viewpoints and jaw-dropping surroundings. Also, it is home to ancient fortresses and temples. Tipu's Drop, Bhoga Nandeeshwara Temple, and Amrita Sarovar are the most popular attractions here. You can also enjoy activities like camping, cycling, and paragliding.

Another enchanting destination of Karnataka, Chikmagalur is a natural retreat, especially in the winter months. Covered with coffee plantations and lush trees, this city is perfect for an escape from the urban realms. Jhari Waterfalls, Sharadamba Temple, Hanuman Gundi Waterfalls, and Vidyashankara Temple are must-visit attractions here. Whether you are a nature lover, trekking enthusiasts, or explorers, Chikmagalur is the ideal place for you.

Known for its cultural vibrance and glorious history, Mysuru is one of the most famous places to visit in Karnataka. During the month of December, the pleasant weather makes sightseeing tours more comfortable. The city is lined with majestic palaces like Mysore Palace, Lalitha Mahal and Jagmohan Palace. Besides this, there are several exquisite gardens, such as Brindavan Gardens, Sanjeevini Park, and Dr. Ambedkar's Park where you
can spend a peaceful evening. With so much to enjoy and explore, Mysuru needs to be on top of your travel wish list.

If you love visiting beaches sans the crowds, Gokarna is the place for you. Om Beach, Paradise Beach, and Half Moon Beach are the most beautiful beaches in the city. Here, you can indulge in activities like surfing, scuba diving, snorkelling, parasailing, and jet skiing. Also, if you like temple hopping, Gokarna is home to various temples. You must visit Mahabaleshwar Temple and Bhadrakali Temple.

The capital city of Karnataka is a traveller's hub throughout the year, but the favourable weather during December makes it a perfect time. If you think the city is only about IT, you will be surprised to know that there are tons of lovely places in and around the region. Cubbon Park, Bugle Rock Park, and Indira Gandhi Musical Fountain Park are among the most stunning places to visit. You can also head for trekking and camping at Ramanagara
and Narayanagiri. Bengaluru is also an excellent place for party lovers.
The captivating cities of Karnataka offer an escape from the necessities of daily life, allowing people to relax and enjoy.