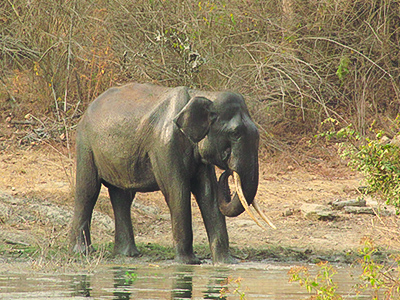 Nagarhole
Looking for a weekend getaway from Bangalore, Mysore, Mandya, or Coorg? An ideal destination that comes to your mind is Kabini or Nagarhole again and again for sure. The reason is very simple, yes! It is worth visiting again and again. Each time you visit Nagarhole or Kabini you experience something new.
As the summers are approaching, the probability of sighting wild cats and the other habitats of the forest is quite high. So charge your cameras for that unexpected, thrilling and adventurous journey amidst the dense forests of Karnataka. Host to several rare and endangered species, Nagarhole on the banks of River Kabini is one of the most sought forests not just in Karnataka but also in India. Hop on to the Jeep or the boat for the Jungle Safari and get mesmerised by oriental white-backed Vultures and eagles, Nilgiri wood pigeon, the Indian Bison and many more.
About Nagarhole
Tiger Couple
The 640 sq km dense forest of Nagarhole is located between Mysore plateaus in the Karnataka region and the Nilgiris range of Tamil Nadu. Also known as Rajiv Gandhi National Park, the sanctuary is a Tiger Reserve under Project Tiger and Project Elephant. The sanctuary is home to Bengal Tigers, Leopards and the largest herd of Asiatic elephants in the world. It hosts flora and fauna, migratory birds, reptiles, guars, deer, Antelopes, wild dogs, bears and several other smaller, common and rare animals and birds. The Black Panthers especially Baghira has gained tremendous popularity and has attracted a lot of travellers. One needs to be lucky to spot this gorgeous and rare wild cat. The tall rosewood and teak trees dominate the jungle along with other trees like sandalwood and Silver Oak.
What to do and see
Rejuvenate Relax Repeat
Sunrise at Kabini River
Experience the tranquillity which might give you an adrenaline rush too. Experience all the modern amenities amidst the rustic jungle along with delectable and lip-smacking food. Check-in into Jungle Lodges and indulge in the luxury in maharaja style with an old-world charm ambience surrounded by lush greenery all over. Relax, rejuvenate, eat, safari and repeat is something one can look for in 2-3 days of the itinerary at Jungle lodges. The wellness and recreational packages include relaxing and soothing massages with a well-equipped bar. Treat yourself to educational wildlife movies that will not only enchant the kids but also adults of all age groups.
Adventure
Kabini Peacock and Safari
Adventure and excitement await you in Nagarhole. Get into the jungle either by jeep or cruise through a boat safari. Do not be under the impression that you can do either of the two safaris and the fun and adventure will be the same. Experience both safaris. Sail in a boat on the backwaters of River Kabini through the forests for a quaint safari on a motorboat observing lazy crocodiles and effervescent birds. Witness the animals especially elephants on the river bank either drinking water or just having a fun bath. There is very less likely a chance that you will miss any sighting of wildlife. Consider yourself lucky if you witness the largest congregation of elephants in Asia, which was like 1000 elephants near the backwaters of the River Kabini. Experienced and passionate naturalists take you on a wildlife safari in a jeep or a boat safari into the Nagarhole National Park sharing interesting jungle stories.
Wildlife Safari at Nagarhole
Kabini Safari
You may choose your accommodation based on your budget and convenience. There are two types of Safaris namely Jeep and Boat. Safari in backwaters of Kabini is by a motorboat. Although, Forest department does organise safaris the safaris conducted by Jungle Lodges Resorts is an experience by itself. Each safari takes about 2 to 2 and half hours and is conducted twice a day.
TIP: Pre- Booking for the safari is advisable.
Time to Visit
Kabini Landscape Nagarahole Tiger Reserve
Forests stays are the most sought vacations for everyone, be it a tourist, traveller or explorer. Nagarhole is the hub for nature enthusiasts, wildlife photographers, bird-watchers kids and even senior citizens. Although the scorching months of March, April and May are dry, the chances of sighting wildlife especially elephants are high near the river banks. Monsoon months are lush green and slushy offering different kinds of adventure and views. However, the animal sighting is comparatively lesser. The winter months are cool and offer good sightings too.
Accommodation
There are a couple of options available inside the pristine forest but the most popular one is the government-owned Kabini River Lodge by Jungle Lodges and Resorts. Best safaris are guaranteed if you choose to stay here.
Resort Contact Info
Kabini River Lodge, Nissana Beltur Post, HD Kote Taluk, Karapura, Around Mysore – 571 114 Karnataka.
Manager: Mr Anikethan C
Contact Number: +91 9449597896
Email Id: info@junglelodges.com
For more information on Nagarahole Forest Safari and Kabini River Lodge stay, visit Junglelodges.com
How to reach
As Nagarhole comes under forest jurisdictions, necessary permissions are required to enter the forest. The entry to the forest is via road from Bangalore, Mangalore and Mysore.
By Air
Bangalore and Mangalore are the two international airports with good connectivity with the rest of the world. The nearest domestic airport is Mysore which is connected to Bangalore.
By Rail
Mysore is the nearest railway station and is well connected with major cities of India.
By Road
Whether you take a flight or train, Nagarhole is connected via road. It is 223 km from Bangalore and just 75 km away from Mysore.
Tips
1. Make sure you are vaccinated and wear the mask all the time.
2. Please confirm safari timings, cost and the mode well in advance. There are two types Jeep and Boat safaris.
3. DSLR and Video cameras have entry fees apart from Safari tariffs.
4. Wear appropriate clothes. Avoid bright colours and choose earthy jungle colours like khaki, dark green, brown.
5. Wear comfortable shoes.
6. Do not make noise during safaris.
7. Feeding or teasing animals is strictly prohibited.
8. Avoid plastic and DO NOT LITTER.