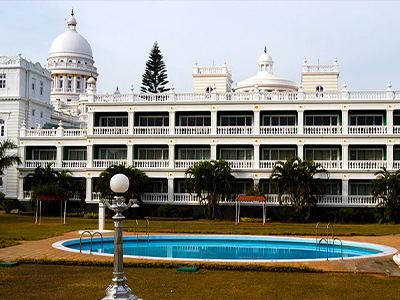 My Experience At The Luxurious Lalitha Mahal Palace Hotel By JLR
Karnataka is a delightful destination in India that has a plethora of mighty places that you can explore. The rich blend of tradition and style of the luxurious Lalitha Mahal Palace Hotel simply adds to the overall experience of the traveller. The Hotel was built by the former Maharaja of Mysore himself in the year 1931, to host his important guests. Where earlier it was used as an iconic residential palace, the vintage property has now been converted into an ultra-luxurious Hotel. Situated at the foothills of Chamundi in Mysuru, the location of the century-old property is itself iconic, as it offers a panoramic view of the lush green curving valley.

This majestic abode is maintained by Jungle Lodges and Resorts, which maintain several hotels and resorts in the forest regions. Counted among the most opulent hotels of India, the luxurious two-storied building does not fail to provide the breath-taking views of beautifully landscaped gardens, pavilions, spherical domes and fountains. The majestic palace houses 54 stately suites and rooms that offer amenities of princely proportions, including the very famous, The Viceroy Suite. The rooms in the hotel have high ceilings and are well lit, and they even house period furniture, four pastor beds, velvet-covered armchairs and what not. And when the rooms shimmer royalty, how can the bathrooms be left behind. The bathrooms are outfitted with unique Shanks of Scotland plumbing installations and Belgian mirrors.

The central hall in the hotel consists of life-size portraits of the royal family, some of which are even hand-painted. The antique pieces and decorative motifs depict the history of Mysuru. Lalitha Mahal also holds a mixed blend of contemporary. Therefore, the hotel campus houses a swimming pool, a lawn tennis court, a jogging track, a health club and several other facilities. The guests can even enjoy a game of golf in the nearby golf courses, and they are accompanied by support staff in traditional attire, offering a truly princely experience.

The phenomenal Lalitha Mahal Palace hotel in Mysuru is currently one of India's most opulent lodging destinations. One truly witnesses a unique experience of princely living. The century-old vintage property stands upright to date to narrate the history of Mysuru's rich culture and tradition. From the awe-inspiring décor of the halls to the gourmet restaurant, all give a glimpse of the bygone princely era. A visit here is a welcome to an ethereal experience and a memory to be cherished for a lifetime.